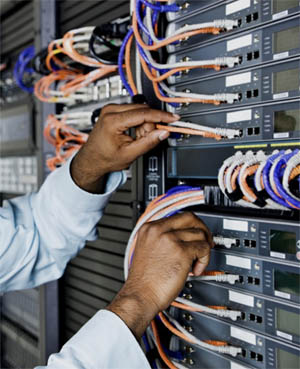 Cabling infrastructure is the backbone for all your IT networking requirements and is also needed to run telephony systems, security and many other IP functions, so the correct choice is paramount.As a structured cabling solutions provider we understand that cabling is the lifeline for the entire Information Technology Infrastructure. It is the foundation on which all other business activities depend.
The pace of which technology develops is moving ever faster. As processors get quicker and more information needs to be transmitted, your network needs the capability of the latest development in structured cabling.
We design, install, and administer your entire system used to transmit data, voice and video information through your entire building or from office to office. This cabling system is the base of modern information networks and provides a platform upon which an overall information system strategy is built.
We fully understand that your business is unique, we will work with you to identify your current and future requirements. Our highly experienced team of engineers ensure that our customers return time and time again.
So whether you are looking for a Cat5e, Cat6, Cat6a or Cat7/7a structured cabling system, in singlemode or multimode a fibre optic system either traditional or blown, we know we have the solution.
"Your network needs the capability of the latest development in structured cabling"